My Aunt Ida is holding the kitten.
She was in early theater and Hollywood movies.
She acted and danced in films from about 1912 to the
late 1920's, performing on Broadway and other
venues across the nation. She would travel to Hawaii
many times by cruise ship and air, with big groups of
her friends. In her later years she lived with us.
She was born in 1894 and died in 1981.
She was a very nice person.
A Nomad for Life: Isabelle Eberhardt
 "A nomad I will remain for life, in love with distant and uncharted places…."
I would like to kick off this blog about Lost Ladies and Missing Mollies with the one, the only: Isabelle Eberhardt. She was like none other, except Arthur Rimbaud perhaps (without any of that slave trading business). She was a nomad, mystic, gender subverter extraordinaire, and sexually liberated woman whose life could be described as truly epic!
Her mother went to Switzerland to convalese after an illness, taking along her stepson and two biological children. Also joining them was the children's tutor: Isabelle's father. Soon after arriving in Geneva, she gave birth to Isabelle's brother Augustin, then four months later her husband died of a sudden heart attack. By this time, her mother was already pregnant again with Isabelle, who was registered as illegitimate in order to hide the true paternity of her father. Her other half-siblings who hated her father and held a grudge on her would haunt her for the rest of her life.
She was raised in a decidedly unconventional manner than most girls of her time. She grew up riding horseback, studying languages (mastering Arabic along with many others), as well as studying theology and literature with her tutor father. She discovered that dressing as a boy provided her with more freedom, liberating her from her gender-prescribed roles of the day.
She became obsessed with the writing of Pierre Loti (French lieutenant, Julien Viaud's pen name). His writing described his travels in Africa and the Middle East, both regions of the world that Isabelle felt a strong connection with. He wrote about being intoxicated by the air and expansiveness of the desert, riding bejewelled camels through the day and into the night. These writings inspired Isabelle to dreams of exploring the desert and its inhabitants.
"For those who know the value of and exquisite taste of solitary freedom…"

To say she fell in love with Loti is far to simple: she fell in love with inhabiting the concept of a boy-explorer of foreign lands. She began to voraciously cultivate her ideal and to live her passion. Isabelle travelled to Algeria with her mother, both of them converted to Islam. Her mother suddenly passed away, and her father followed soon after. With no home to go back to, she was a boy alone with the world as her oyster.
"The farther behind I leave the past, the closer I am to forging my own…"
She renamed herself Si Mahmoud Essadi and began to live her life as a man. She began to follow the mystical, esoteric dimension of Islam: Sufism. In addition to her spiritual pursuits, she sought more earthly pursuits as well. As Si Mahmoud, she was able to explore the night. Attracting many young men with her androgynous, pretty boy looks, she had sex with young Arabic men, drank her fill of cognac and absinthe, as well as smoked kif (hashish).
"one is only free when alone"
She married Algerian soldier, Slimane Ehnni, continuing her travels and writing. She became a war correspondent for the French press. In her personal life, she continued to explore and document her adventures with mind-altering substances. Despite her devotion to her chosen faith, she continued to live on the wild side, bent on experiencing as much as she could.
"One must never look for happiness: one meets it by the way"
She became involved with Qadiryya, a radical sect of Sufism, committed to aiding the poor and opposed to the colonial rule of Algeria by the French. Devoting herself to the cause, she wrote articles for various publications condemning colonialist rule and celebrating the local culture.
In 1901, when she was 24, she was attacked with a sabre by a would-be assasin while she was preying in a mosque. The attack nearly severed her arm. She forgave the man who attempted to murder her, represented him in court, and was able to successfully argue for his life to be spared.
"I am not afraid of death, but
would not want to die in some
obscure or pointless way."
After returning from yet another of her many nomadic excursions, she reunited with her husband in the dry, barren area of Aïn Séfra. A random act of nature arrived in the form of a flash flood. Their house, which was made of clay, collapsed. She managed to escape, but swam back to rescue her husband. She saved his life, but drowned in the flood.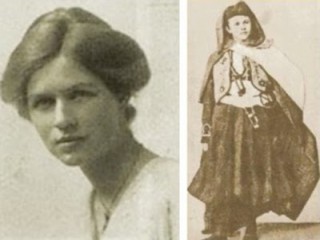 "Oh if at every moment of our lives we
could know the consequences of some
of the utterings, thoughts and deeds that
seem so trivial and unimportant at the time!
And should we not conclude from such
examples that there is no such thing
in life as unimportant moments
devoid of meaning for the future?"
She is survived by a prolific documentation of a fantastic life lived in highly unusual circumstances.
Her travel writings:
Algerian Short Stories (1905), In the Hot Shade of Islam (1906), The Day Laborers (1922)
Other works: a novel, Vagabond, and a collection of various works, Departures: Selected Writings
The journals covering the last four years of her life: The Nomad: The Diaries of Isabelle Eberhardt"
Paul Bowles also translated 13 selected short pieces titled The Oblivion Seekers
Isabelle: The Life of Isabelle Eberhardt by Annette Kobak was published by Virago and is arguably the definitive biography on the life of Isabelle Eberhardt
I leave you with Jolie Holland's Old Fashioned Morphine, which gives a shout-out to the Divine Ms. Mr. Isabelle Mahmoud Eberhardt Essadi!
13 notes
See Post tags #isabelle eberhardt #sufism #gender bending #lost lady #androgyny #transgender